(Bloomberg, July 21) – Komatsu Ltd., the second-biggest mining and construction equipment maker, agreed to buy Joy Global Inc. for $2.89 billion, signaling the Japanese company is optimistic that demand for shovels and drills will rebound after years of declining commodity prices.
Komatsu will pay $28.30 a share in cash, it said Thursday in a statement, an offer 20 percent higher than Milwaukee-based Joy's closing price the day before. It will be Komatsu's biggest-ever acquisition, bolstering its ability to compete with larger rival Caterpillar Inc. Joy shares jumped 17 percent to $27.65 at 11:01 a.m. in New York.
The deal creates a competitive landscape with two matching global peers, Stephen Volkmann, a New York-based analyst at Jefferies LLC, said Thursday by phone.
 "This deal allows Komatsu to compete toe-to-toe everywhere with Caterpillar," Volkmann said. "There's just two major players and each one basically does everything."
Joy is the largest independent maker of underground-mining equipment and has long been viewed as a potential target for Komatsu, which manufactures dump trucks and large excavators for companies such as Rio Tinto Group. Komatsu looked at Joy as recently as 2012 but rejected a deal after concluding there were few cost savings.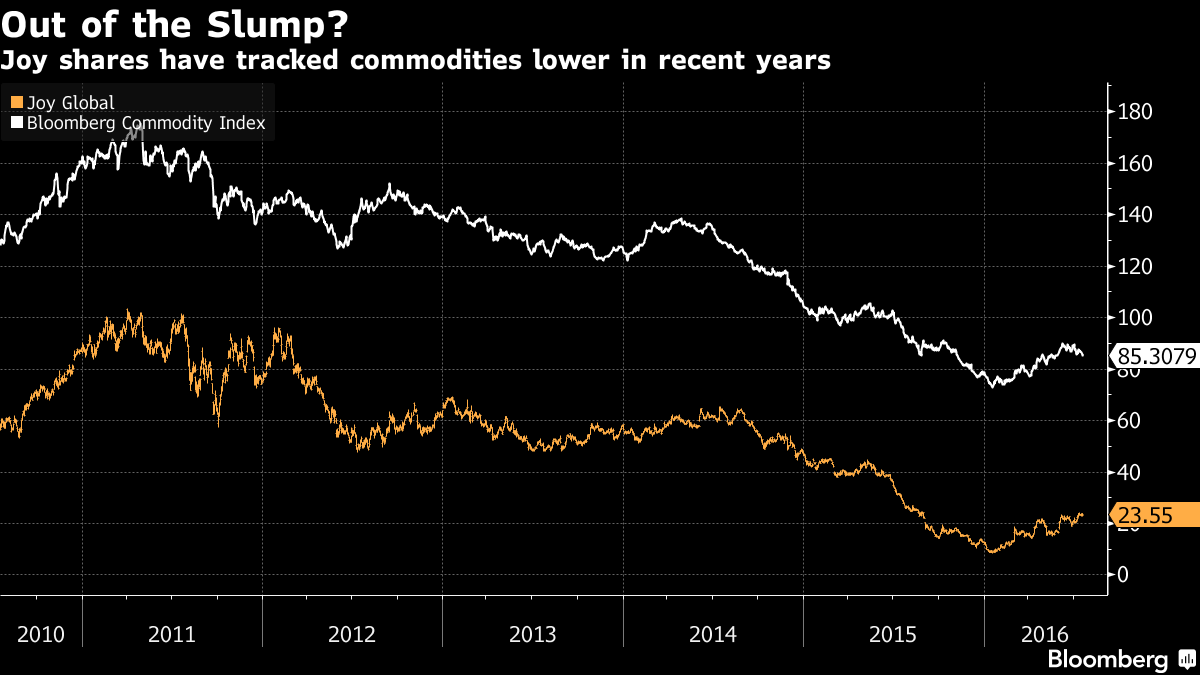 Conditions in the mining industry have deteriorated since then. Tumbling metal and coal prices spurred producers to cancel projects and rein in spending, reducing demand for everything from underground tunneling kit for copper mining to big shovels used to extract coal. Joy has posted a net loss in each of the last three quarters and its share price is down by more than half over the last five years.
The pullback contrasts with the mining-machinery industry's boom during 2000-2010 on the back of surging commodity prices. Back then, miners complained of shortages and long lead times to secure equipment. Companies such as Joy were able to raise prices, benefiting from both increased demand and higher margins.
'Only Ones'
The height of that expansion was marked by the industry's largest deal — Caterpillar's $7.4 billion acquisition of excavator maker Bucyrus International Inc., which was announced in 2010.
"Caterpillar bought Bucyrus to be the only ones who could do it," Volkmann said. "Now they're not the only ones."
Adding Joy's expertise in underground equipment is a logical step for Komatsu as new mines are increasingly likely to be developed deep below the surface, according to Sydney-based Fat Prophets resource analyst David Lennox. "The easy deposits have all generally been found," he said.
'Bright Future'
The purchase of Joy also means the list of independent companies making mining equipment has shrunk to a just few companies, including Atlas Copco AB, Sandvik AB and Boart Longyear Ltd.
Despite the dramatic decline in demand in recent years, the industry will eventually see growth again, Komatsu said Thursday, citing global population growth and urbanization. The "current business environment for the mining industry is tough but there's a bright future in the mid- and long-term," Chief Executive Officer Tetsuji Ohashi told reporters in Tokyo after the deal was announced.
Major deals in mining or mining services indicate companies in the industry believe commodities are close to a revival, Lennox said. Commodities entered a bull market in June as supply constraints delivered gains in materials from zinc to soybeans, drawing a line under the biggest price collapse in a generation. After years of cutting loss-making output and trimming costs, the largest miners have begun to authorize investments in new projects.
The Joy deal is valued at about $3.6 billion once debt is included, according to data compiled by Bloomberg. The takeover is expected to close in mid-2017 after regulator and shareholder approvals, Komatsu said. Goldman Sachs Group Inc. advised Joy while Mitsubishi UFJ Morgan Stanley Securities Co. Ltd. advised Komatsu.
Komatsu plans to operate Joy as a separate subsidiary and will retain its brand names, the U.S. company said in a separate statement.